Bela Lugosi's Tales From the Grave™
Cover Art Competition
Winning artwork will receive a cash payment and be published on the cover of an upcoming issue of Bela Lugosi's Tales from the Grave.
SUBMISSION PERIOD October 22, 2013 to November 23, 2013 at 5pm PST.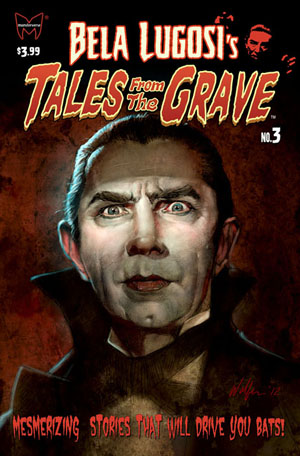 Bela Lugosi's Tales from the Grave, published by Monsterverse Entertainment, is a horror anthology in the tradition of EC comics and Creepy Magazine. Each issue presents shocking comic book tales of terror hosted by the original king of Hollywood horror, Bela Lugosi through special arrangement with the Bela Lugosi estate. Each issue contains multiple stories by a variety of writers and artists and has featured art by John Cassaday, Bill Sienkiewicz, Bruce Timm, Terry Beatty, John Lucas, Rafael Navarro, Chris Moreno, Benton Jew, Henry Mayo, Mike Hoffman, Neil Vokes, Lowell Isaac, Mike Dubitch and Kerry Gammill. Monsterverse cover artists have included Basil Gogos, Dan Brereton, John Cassaday, Terry Wolfinger, Alex Tuis, Dave Hartman and Academy Award winning make-up effects artist Rick Baker.
Monsterverse is seeking cover art which is strange, weird, spooky, chilling, monstrous or mysterious and sparks the imagination. Although our main emphasis is on horror and fear, subjects can also include similar genres such as fantasy or science fiction. The cover art will also be the source of inspiration for a story that will appear in the same issue and incorporate ideas suggested by the winning artist.
Cover contest details:
1. Free to enter at www.infectedbyart.com
2. Artist must be the sole copyright owner of the image which must be an original, unpublished work.
3. Winner announced Nov. 23rd at Long Beach Comic and Horror Convention.
4. Winner chosen by Monsterverse publisher Kerry Gammill.
5. $700 cash award
6. Artist agrees that Monsterverse and Infected by Art may use the winning image in its promotions.
7. Winning artist agrees to allow the elements of the art to be adapted into a comic book story for use in the issue that features the cover art.
8. Artist will retain ownership of the original art and all reproduction rights outside the comic book field.