IBA & ArtOrder LLC to launch new Quarterly Publication
Posted On: 1/18/2019 11:59:00 AM
Infected Quarterly (IQ) is a new Arts and Literature magazine being published by ArtOrder LLC in collaboration with Infected By Art.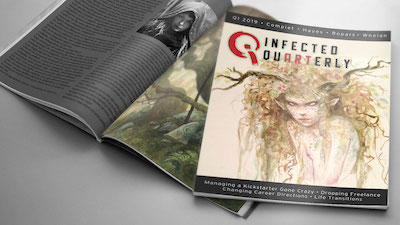 IQ will feature in-depth perspectives and meaningful conversations with talented artists and writers from around the world. IQ will be talking to creatives about real issues that impact their personal lives and their careers...and chances are, yours as well.
While Infected Quarterly will be focusing on great conversations, we will also also be featuring world wide exclusives and brand new Art and Literature by introducing illustrated short stories and mini-comics to each issue. IQ will be offering you a fresh take on genre fiction and introducing you to some new voices and artists, or re-introduce you to some industry leaders trying out something new or different.
So whatever it is you are looking for: be it inspiration, motivation, curiosity, strength or fulfillment - or you just want to learn more about today's hottest artist and writers, then start by reading the next pages of IQ magazine. Infected Quarterly will be published four times each year beginning this Spring. While copies will be available for direct purchase we'll be launching a Kickstarter the week in February which will allow you to pre-order the first four issues along with some great upgrades.
If you're interested in contributing to future issues of IQ as a storyteller, writer or interviewee, we're quite open to proposals and we'd love to hear from you. Please contact us through
www.infectedbyart.com
and we'll be in touch! To stay updated on IQ please signup for
ArtOrder LLC's mailing list
.
As always, thank you for supporting Infected by Art!
Regards,
Bill Cox
About Infected by Art
Infected By Art connects Artists to a Global Audience through our On-line Art Competitions, our Compilation Art Book, and On-line Artist's Galleries. Competitions we host - like our Compilation Art Book - are open to professional and emerging artists from all over the world.
About ArtOrder
Publishes and distributes award-winning books and table top games that showcase the talents of creatives, offer innovative user experiences, and have stellar production values.
Comments